The 3rd Annual Wentz Brothers' Festival of Fears Continues to Become Bigger & Better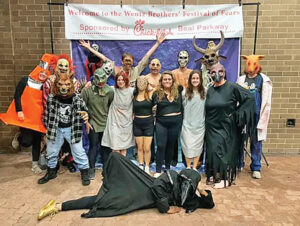 The Wentz Brothers invite one and all to their third annual Festival of Fears haunted attraction in Fort Walton Beach. This year's event promises to be bigger and better than the last, opening in a new facility at the Santa Rosa Mall. The new location boasts over 80,000 square feet, leaving the Wentz Brothers, Alex and Andrew, with plenty of room to continue growing the Festival of Fears into "the Gulf Coast's premier haunted attraction."
The 2023 haunt season will introduce guests to a number of new characters, offerings and attractions you won't want to miss. The Festival of Fears will host three all-new, original haunted houses alongside new and improved horror-themed midway games, two haunted,
15-minute escape rooms, a spooky gift shop, food trucks and an expanded bar serving a variety of drinks from alcohol to event-exclusive Fear Potions. The Wentz Brothers also plan to host a number of new events held throughout the season such as the inaugural Drop Dead Disco costume party, two Family Day events, and a special surprise for Friday the 13th.
Keeping with the Festival of Fears' tradition of changing haunted house themes each season, 2023 will boast three unique, haunted house concepts and styles. The first, Beasts of the Bayou, will transport guests into a backwoods marsh never explored by man, but home to a bevy of hideous and hungry monsters. Next, Nightmare Menagerie will have guests venture into an abandoned, roadside zoo that has now become home to a new breed of evil. And finally, guests will step under the big top to see the newest additions to the Collector's horrifying horde in Into The Festival Of Fears: The Secret Show. Additionally, guests can test their nerves and their wits in two new, haunted, 15-minute escape rooms — Lazarus Toys: No Escape and Experiments In Evil: Razorback's Revenge.
The Festival of Fears is located in the old JC Penney's building at Santa Rosa Mall and is open select nights from September 15th to November 4th. Haunting hours start at 6 p.m. sharp with a special pre-show to kick things off — so don't be late. Guests who book their tickets for any night in September will receive $5 off general admission or $10 off express entry or VIP passes using the promo code: SEPTEMBER at checkout. Tickets can be purchased at the door or online at www.wbfestivaloffears.com.
It's Almost Time for the Okaloosa County Big Scoop!
Big Brothers Big Sisters of Northwest Florida will host its 3rd annual Big Scoop in Okaloosa County, September 9, at Emerald Coast Harley-Davidson in Fort Walton Beach from 2 to 4 p.m. You are invited to take part in this free ice cream social, games, face painting, arts and crafts, and MORE! Damian's Enterprises, Inc. will provide various flavors of ice cream and popsicles and Okaloosa Dippin' Dots will be handing out samples. Ascension Sacred Heart will be offering customized bicycle helmet fittings and Little Adventures and Emerald Coast Science Center will have information about local marine life, as well as hands-on activities involving live animals. Attendees will also have an opportunity to learn about fire safety by visiting Ocean City-Wright Fire Control District's inflatable smoke house. Z-96 FM will be playing hit songs for the crowd. Any and all donations at this event will go to Big Brothers Big Sisters of Northwest Florida's programs and services in Okaloosa and Walton counties. Each time Big Brothers Big Sisters pairs a child with a role model, they start something incredible: a one-to-one relationship built on trust and friendship that can blossom into a future of unlimited potential. Many of the matches can last multiple years and normally result in improved grades, less discipline problems and avoidance of risky behaviors. For more information, contact events@bbbsnwfl.org or 850-433-5437.
Healing Paws for Warriors invites you to join Eglin Pet Welfare for a day with the dogs on Saturday, Sept. 16th, Noon-3 p.m. at 3rd Planet Brewing! Learn about the services Healing Paws for Warriors provides to veterans through pairings with service dogs. Meet the dogs of Eglin Pet Welfare that you can adopt and provide a furever home.
The Fort Walton Beach Community Chorus began Christmas rehearsals on Tuesday, August 22. Rehearsals are held at the First Christian Church at 6:30 p.m., 201 St Mary's Ave. in Fort Walton Beach. If you are interested in joining the chorus, you can jump in during the first three weeks of rehearsals. For questions or information, call or text chorus president Vicki Kreis at (850) 240-1668.
Join the Heritage Museum of Northwest Florida in celebrating National Constitution week by hearing the story of "The longest siege of the American Revolution; the Battle of Pensacola" presented by author Wesley S. Odom, Saturday, Sept. 23, 10:30 a.m.-1:30 p.m., 115 Westview Ave., Valparaiso. Lasting nine weeks in 1781, this little-known battle impacted the Revolution in a decisive way and, in this lesson, you will hear the surprising end of the siege. $10 per attendee and $6 for museum members. Special group price $20 for a group of 4 or $15 for members. CALL 850-678-2615 Visit heritage-museum.org.
Enjoy contemporary art at the 31st Annual Emerald Coast National Juried Art Exhibition, McIlroy Gallery, Mattie Kelly Arts Center Galleries at Northwest Florida State College. See contemporary art made by 20 different artists from across the U.S. guest juried by Dr. Maria Elena Buszek, Professor of Art History, University of Colorado. There will be a debut solo exhibition by ECN 30's Best-in-Show artist, Ainaz Alipour, MA in film ('21) and MFA fine art ('24). See a blend of high & low-tech materials and processes, including virtual reality, projection, 3D Printing and hand sewing. Free and open to the public. Exhibition Dates: August 31-December 15, 2023. MKAC Galleries Hours: Monday – Thursday: 10 a.m. – 4 p.m.
Exhibition Dates: August 31-December 15, 2023. MKAC Galleries Hours: Monday – Thursday: 10 a.m. – 4 p.m.
CCL Celebrates 30 years on the Emerald Coast!
The Center for Lifelong Learning (CLL) is ushering in a new fall semester and celebrating a monumental milestone – its 30th Year Anniversary serving Okaloosa County. Registration for the upcoming semester begins August 30th. This cherished institution is preparing to mark three decades of empowering minds, enriching lives, and building friendships in our adult population.
"New this year, besides the over 50 semester-long classes being offered, we are now incorporating expert-guided one-day tours in the local area that will give people a chance to learn even more about our community," remarked Nicole Blatt, President of the Center. "Learning is a lifelong journey, and CLL is dedicated to making that journey as enriching and accessible as possible. Our team of passionate all-volunteer instructors and experts are eager to guide participants through an educational experience that transcends traditional boundaries."
The Center for Lifelong Learning is a member of the Road Scholar Institute Network, providing educational, travel and lifelong learning opportunities for adults. CLL is an all-volunteer organization from the teachers, staff and even the Board of Directors. Membership and course fees go only to operating expenses, scholarships and charities. As of 2023, CLL has provided over $30,000 in scholarships and $11,000 to charities.
Located on the University of West Florida Emerald Coast Campus in Ft Walton Beach, CLL provides interesting and stimulating educational activities, as well as local social events, a "lunch and learn" speaker series, and a fabulous Final Follies showcase.
CLL offers two semesters per year. The Fall 2023 semester (Sep-Nov) promises an exciting array of over 50 courses tailored to meet the diverse interests and needs of the community. Winter semester (Jan-Mar) usually has over 70 classes offered with a higher enrollment welcoming visiting snowbird students and instructors.
Some of the amazing courses offered are pickleball, pottery, line dancing, yoga, tai chi, flying drones, iPad technology, genealogy, and backyard astronomy. "Two very interesting new class offerings this fall are called Dissecting Disastersand The Poetry We Didn't Appreciate in School," remarked Sharon Purvis, Curriculum Director. "We have something for everyone."
Classes are held at UWF Emerald Coast Campus (FWB) and at various locations throughout okaloosa county.
Online registration began Aug. 30 and continues throughout the 8-week semester. Classes start September 18th and end November 10th. Registration costs include a $20 membership fee and $15 per class. Expert-guided tours are $10 each. Register online at www.cll-fwb.org. You can email questions to CLL@uwf.edu or call (850) 863-6548. And for those who would rather register in person, they can come by the office on UWF Emerald Coast Campus 1170 Martin Luther King JR, BLVD, Building 4, Room 461.
MKAF Kicks Off 2023 Fall Season With Salt Water Music Fest
Presented by Salt Water Vacations and MKAF, The first-ever Salt Water Music Fest brings music lovers a sensational three-day music showcase celebration to raise funds and awareness for MKAF — Destin's champion of the cultural arts for all. The two-day music festival is Thursday, Oct. 12, and Friday, Oct. 13 at MKAF's Cultural Arts Village in Destin with a singer/songwriter brunch to follow on Sunday, Oct. 14 at Soleil in Destin.
Grammy-winning pop songstress Macy Gray, best known for her international hit single I Try, headlines the Festival on Thursday, Oct. 12. Joining this captivating, eclectic R&B talent on stage is her band, The California Jet Club, performing hot tracks from her newest album, The Reset.
The event will also feature an evening of five of Nashville's hottest singer/songwriters including Ben Burgess, Jared Mullins, Jordan Minton, Jordan Reynolds, the Josh Mirenda Band along with headliner country music duo LOCASH. Music lovers can meet and greet many of the singer/songwriters during Brunch at Soleil on Saturday, Oct. 14. The event will include multiple food trucks, beverage bars, merchandise retail sales as well as artist meet & greets (for some ticket levels).
Advance tickets are priced from $50 per person. General admission lawn seating and table seating will be available for individuals. Full tables (seating eight) are available starting from $750. VIP Tables are from $1,500 and include prime seating, VIP tent access, drink coupons, a cash bar, onsite VIP parking passes, and more. Purchase tickets online at mkaf.org.