By Kelly Murphy-Redd, CEcd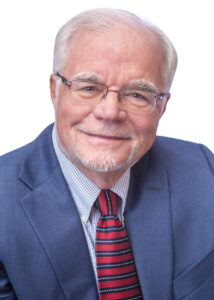 In 1946 Mike Chesser's father was stationed at Eglin Air Force Base. Though born in Pensacola because there were no facilities in Fort Walton Beach in 1947, Mike has called Okaloosa County home for his entire life.
This Florida native attended Choctawhatchee High School and attended the University of Florida on a full music scholarship. As the first clarinet, Mike was president of the Choctaw High School and the University of Florida bands. He started playing the saxophone in the Jazz bands and continued playing clarinet in the symphony. He didn't think he was very talented as compared to the "super talented" musicians he encountered, so he decided to major in law. Mike says he was a better student than a musician.
The law was something Mike had in mind since early junior high school. Looking back, he gives a lot of credit to his seventh-grade civics teacher. He had an aptitude for reading, writing, and comprehension. He wanted to be of benefit to others and felt there was more opportunity in law than in music.
While enrolled in the University of Florida ROTC program, Mike enlisted in the Army. When he completed his undergraduate degree, he was given the choice of serving as a lawyer for the Judge Advocate General (JAG) or combat. He chose combat as was to be an artillery forward observer commander. During his training at Fort Sill in Oklahoma, he was informed he was not going to Viet Nam.
Mike came home and joined a law firm. After a couple of years, he started his own law firm in 1974. In three to four years it grew to seven lawyers and then 12.
A member of the Greater Fort Walton Beach Chamber of Commerce from the beginning, Mike chaired the 911 committee. The telephone company didn't want to do it at first. They were concerned about liability. At the time they were in the throes of switching from a mechanical switching station that worked between cities and prefixes to going digital. After working with the county commission, the telephone company allowed the 911 phone system, and every household was charged a fifty-cent monthly fee.
Mike started the Bayou Book Store in Niceville with Sarah Paulk. When she left to become a professor, he tried to run it himself. When their youngest child was old enough to go to school, his wife Caroline took over the store and ran it for many years.
Chairman of the first zoning revision committee for Okaloosa County, Mike also wrote the City of Shalimar zoning ordinance and the original multifamily zoning ordinance for Okaloosa County. Thirty years ago he wrote the documents for Eglin Federal Credit Union adopted by credit unions nationally and still used today.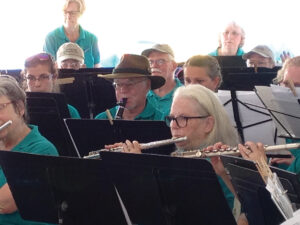 Mike was also chairman of the committee to create a bypass around Niceville and College Boulevard. Fort Walton Beach wanted a bypass from Racetrack Road around Fort Walton Beach for the new college campus. The money was split and both were accomplished at the same time. The Greater Fort Walton Beach Chamber of Commerce was instrumental in both projects. Mike says the chamber was also instrumental in the early days of the Midbay Bridge.
Many of us remember Mike as a relentless proponent of a bypass road for Crestview. He wrote articles in the Daily News about the idea. Nathan Boyles saw the articles and invited Mike to speak to the County Commissioners about Tax Increment Financing (TIF) as a way to finance the proposed bypass. Mike wrote the ordinance that created the TIF.
When asked what the biggest changes he's seen over the years are, Mike talks about community and connectivity. He remembers the business community started out as independently owned small businesses. While there are still a lot of them in Fort Walton Beach, there are now many national chains where decisions and profits flow to a corporate entity outside of the county and state. For example, it's difficult to own space so many people have to rent and today there is no such thing as an independent bank.
When the Midbay Bridge and the bypasses were constructed, connectivity changed. Like many of us, Mike remembers driving through Fort Walton Beach to go to Destin from Niceville before the bridge was built. Business opportunities grew as we became better connected. It became easier to stay connected.
With over 50 years in the Florida Bar and several hundred cases later, Mike says lawyers can make a positive contribution to the community if they are in business to help others. A lawsuit should be filed because it can correct something and possibly draw attention to a wrong, not solely to make money.
Mike continues to serve as the lawyer for the Town of Shalimar, the attorney representative for the Eglin Federal Credit Union, and the Supervisor of Elections. His law firm Chesser & Barr has been in business for over 40 years, and he is part owner of Old South Land Title Company.
Even after all his accomplishments, Mike says he's most proud of his four children.